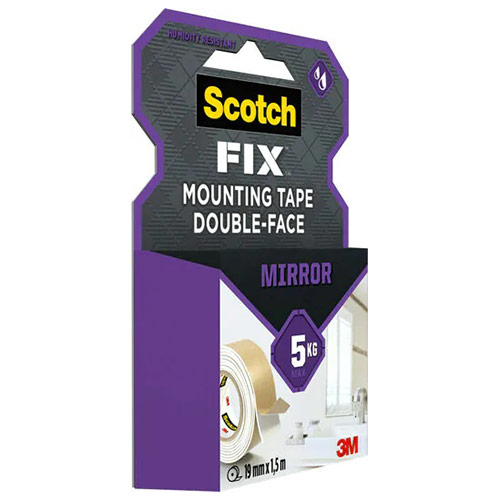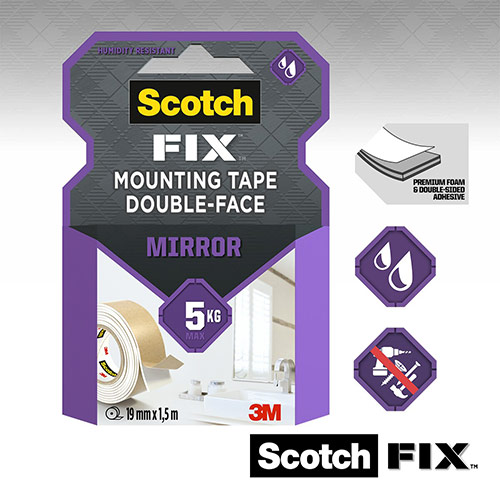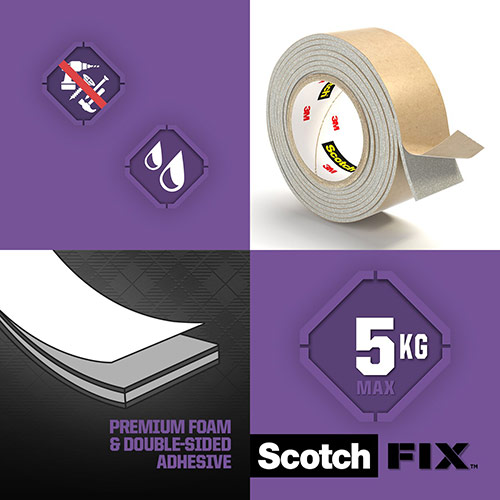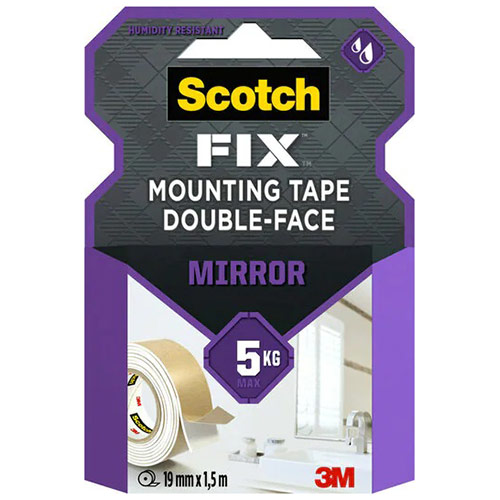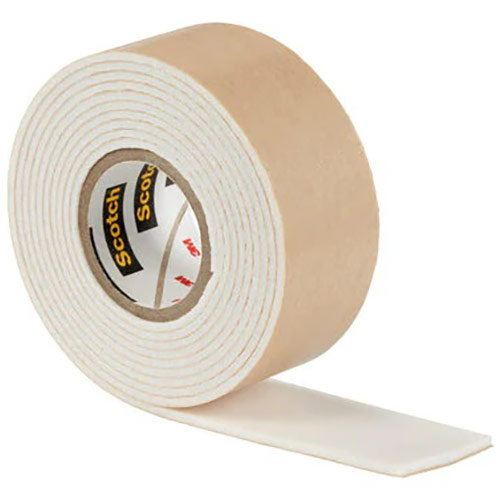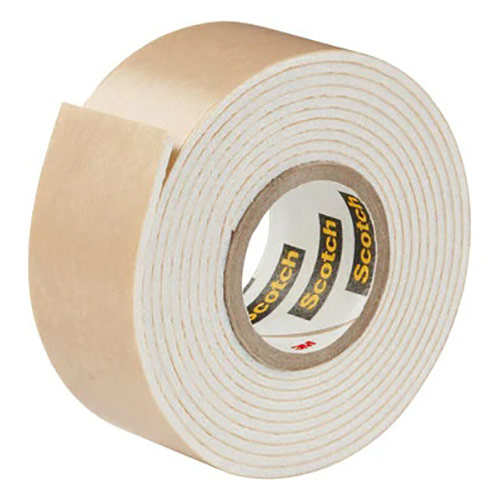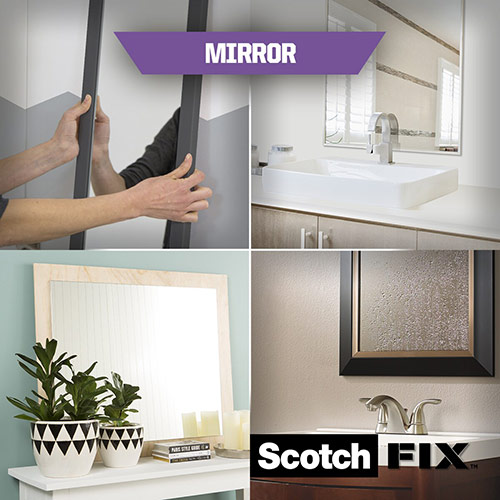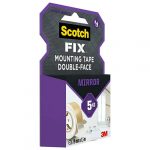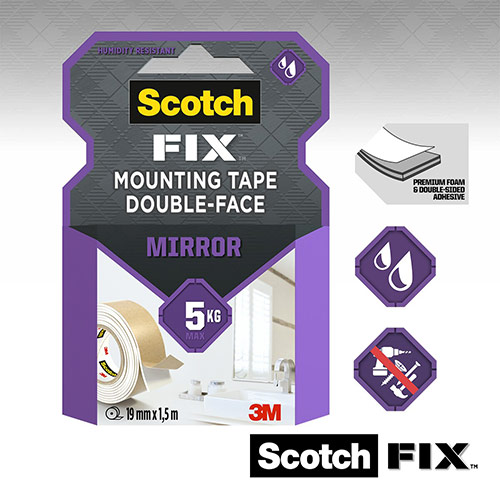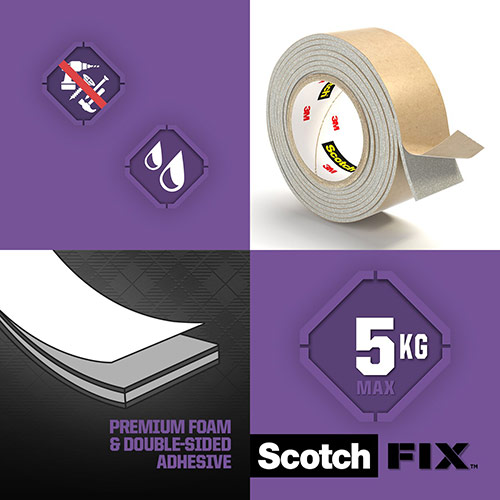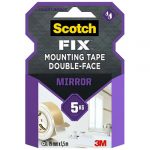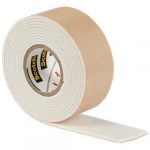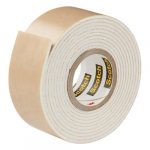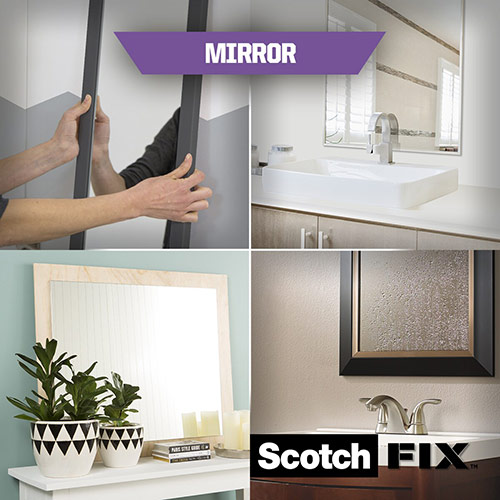 3M Scotch-Fix™ Mirror Mounting Tape 4496W-1915-P, 19mm x 1.5m, 1 roll/pack
€6,81
exc VAT 19%
Compare Product
Description
Additional information
Brand
Description
Scotch-Fix™ Mirror Double-Sided Mounting Tape is ideal for permanently mounting mirrors and other items in humid Interior areas. This conformable, double-sided foam tape provides a fast, permanent bond on Interior surfaces including painted walls, metal, tile, ceramic and most plastics. Its strong bond holds up to 5kg, without nails or a hammer thanks to premium 3M™ industrial adhesive. This tape is resistant to humidity, ideal for discreetly mounting mirrors (including frameless metallic backed mirror tiles) and other objects in humid Interior areas like bathrooms and kitchens.
Suggested Applications
Mounting e.g. mirrors, mirror tiles and bath accessories in bathroom and kitchen environments
Product Details
Can hold up to 5kg,1kg/15cm
Ideal for fixing mirrors and other objects in humid environments
No more drilling, in humid conditions
Temperature resistant from 0°C to 70°C
Designed For: Mirrors, Ceramic, Tiles, Finished Wood, Metal, Glass and Painted Walls
Intended for indoor use in humid enviornment
No tools needed
19mm x 1,5m
Ensure your surface is smooth, clean and dry for the best bond
Scotch-Fix™ Mirror Mounting Tape. Holding up to 5 kg, this foam tape for indoor use in humid enviornments is ideal on mirrors, ceramic, tiles, finished wood, metal, glass and painted walls.
Additional information
UOM

PC

Packing

1 | 12

Catalogue

N/A

Brand

3M
SCOTCH

Tape Size

19 mm x 1,5 m

Colour

White