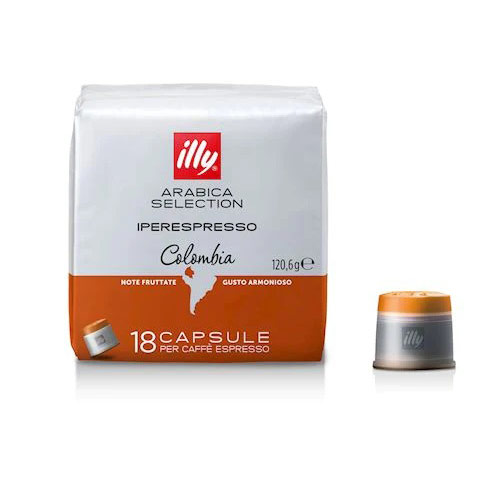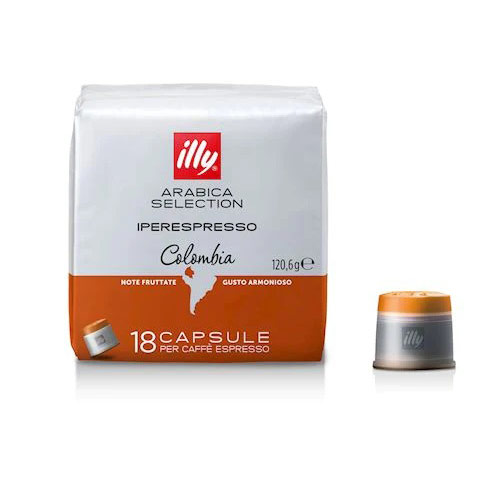 Illy iperEspresso MONOARABICA Colombia 18 Coffee Capsules
€12,37
exc VAT 0%
Compare Product

Compare Product
Description
Additional information
Brand
Description
Espresso coffee capsules, in pressure sealed packaging in order for its organoleptic characteristics to remain unaltered.
TASTE AND AROMA PROFILE
Rich flavor, notes of caramel and dried fruit.
In Colombia, the Andes Cordillera is divided into three mountain chains, creating the ideal conditions for growing quality coffee. The different combinations of soil, altitude and climate make this territory unique, and coffee can be harvested here twice a year.
The aroma is rich: the medium – full body enhances the perfect balance of sweetness, bitterness and acidity. There are surprising notes of caramel and nuts, with a delicate hint of chocolate and toast.
Illy Monoarabica Colombia meets all the standards of the Federacion Nacional de Cafeteros, and has obtained the PGI ( Protected Geographic Indication) logo, an accreditation recognized worldwide as a guarantee of a product's origin and quality.
ΙLLY MONOARABICA
The rich, full body and smooth distinctive taste of illy's legendary blend results from the artful combination of the world's finest Arabica coffee beans. With illy Monoarabica you can discover the individual coffee varietals that comprise the illy blend, each uniquely influenced  by nature at its origin – with soil, climate, altitude and cultivation methods combining to produce unique and incomparable personalities and taste experiences.
IPERESPRESSO SYSTEM – A revolution in espresso.
The novelty of distillation in two stages and the patented design of iperespresso capsules result in espresso that is full bodied, with intense aroma, and thick froth that lasts.
The capsules function as a professional distillation group. Protected by 5 patents, it functions in two stages: first the hot water is diffused with high pressure on the capsule capturing the components of the coffee for 3" and then the 2nd stage of distillation begins and results in excellent espresso with very thick froth.
Additional information
| | |
| --- | --- |
| UOM | PK 18 |
| Packing | 1 |
| Catalogue | Page 238 | Image B |
| Brand | ILLY |
| Capsule system | iperEspresso |
| Coffee type | espresso |
| Roast | Monoarabica |
| Net weight | 120,6 g |