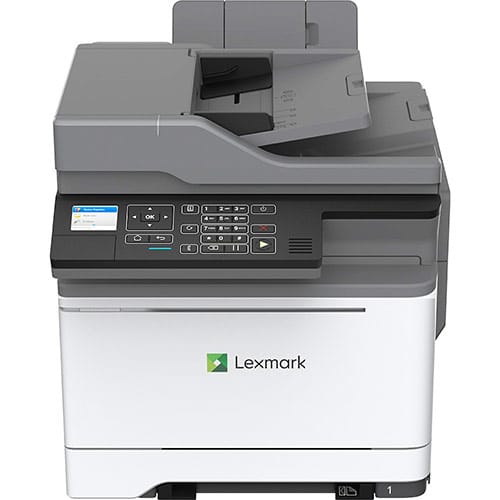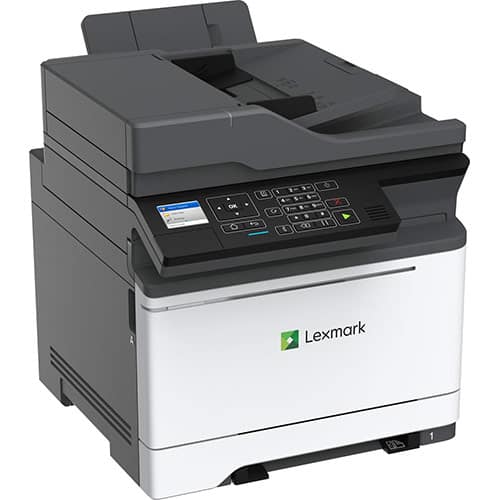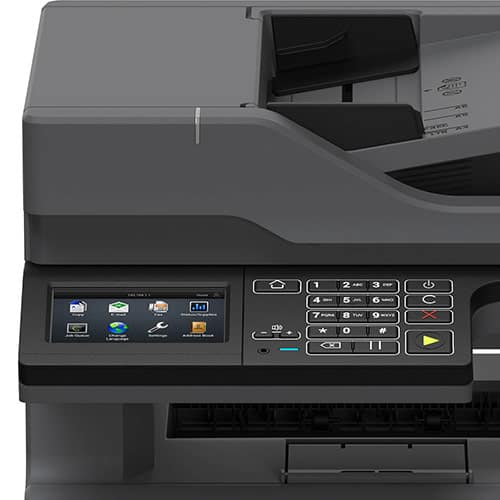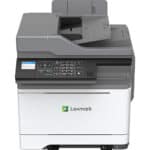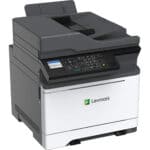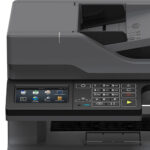 Lexmark MC2425adw Colour Laser Printer
€330,00
exc VAT 19%
Compare Product

Description
Additional information
Description
PRODUCT DESCRIPTION
The Lexmark MC2425adw packs reliable, productive and secure colour multifunction performance into a small-footprint package with output at up to 23 pages per minute*.
Engineered to perform – and last
Driven by a 1.2GHz quad-core processor, the MC2425adw prints up to 23 pages per minute* and can scan up to 47 images per minute. With its steel frame, long-life imaging system, ease of upgrades and robust paper feeding system, it's ready for lasting performance in any environment.
Interact with ease
With its small footprint, the MC2425adw is easy to find a place for. And the new front-panel power button and direct-print USB port, 2.4-inch colour LCD with keypad and secure browser-based device management make it easy to interact with.
4-year guarantee upon registration
For an added level of peace of mind, you can benefit from 4-year guarantee coverage upon registration.
Energy efficiency
Make every watt count with energy management features that reduce power consumption whether the device is active or in sleep mode. Lower fusing temperature, automatic management of processor cores based on workload, and standard two-sided printing all help it achieve EPEAT® Silver rating and ENERGY STAR® (2.0) certification. That benefits the planet and your budget.
Full-spectrum security
Lexmark's comprehensive approach to product security is a design and engineering mandate across our entire product portfolio. Our security features help keep your information safe – in the document, on the device, over the network and at all points in between. That's why Keypoint Intelligence – Buyers Lab honoured Lexmark with a prestigious BLI PaceSetter award for Document Imaging Security***. And this Lexmark product enables you to be GDPR ready.
Colour that only looks expensive
Thanks to PANTONE® calibration, embedded colour sample pages and Lexmark colour Replacement, you'll get accurate, professional colour in-house. And you'll save toner with included tools that let you choose when and how much colour to print, including mono-only print drivers, user-based colour print permissions and quotas, global colour density control, object-specific colour Saver, proof before printing and more.
Classic connections, wireless convenience
Beyond included USB and gigabit ethernet, this device lets you connect wirelessly via built-in Wi-Fi, as well as AirPrint, Google Cloud Print, and Mopria on any network with existing Wi-Fi access. And with Lexmark Mobile Print, printing's as easy as hitting print, choosing your printer and picking up your job.
* Print and copy speeds measured in accordance with ISO/IEC 24734 and ISO/IEC 24735 respectively (ESAT). For more information see: www.lexmark.com/ISOspeeds.
*** Award based on North America and/or Western Europe data
†"Recommended Monthly Page Volume" is a range of pages that helps customers evaluate Lexmark's product offerings based on the average number of pages customers plan to print on the device each month. Lexmark recommends that the number of pages per month be within the stated range for optimum device performance, based on factors including: supplies replacement intervals, paper loading intervals, speed, and typical customer usage.
All information is subject to change without notice. Lexmark is not liable for any errors or omissions.
Drivers & Downloads
In the Box
Photoconductor unit
Software and Documentation CD
4 Developer units (K, C M, Y)
Lexmark MC2425adw colour laser multifunction printer
750*-page starter Colour (CMY) Toner Cartridges
1,400*-page starter Black Toner Cartridge
Power cord(s)
Setup guide or sheet (network and local attachment)
Statement of limited warranty / guarantee
Lexmark Cartridge Collection Programme information
*Average continuous black or continuous composite CMY declared cartridge yield in one-sided (simplex) mode up to this number of standard pages in accordance with ISO/IEC 19798.
Ethernet, USB or parallel cable not included.
Box contents may vary by country and/or reseller. Subject to change without notice.
General Specs
Print Technology
Colour Laser
Colour Copying
Colour Faxing
Colour Printing
Function
Workgroup Size
Small-Medium Workgroup
Display
6 cm (2.4-inch) Colour LCD display
Media Sizes Supported
A6, Oficio, 7 3/4 Envelope, 9 Envelope, JIS-B5, A4, Legal, A5, Hagaki Card, Letter, B5 Envelope, C5 Envelope, Executive, Universal, DL Envelope, Folio, 10 Envelope
Included Paper Handling
Integrated Duplex, Single-Sheet Manual Feed, 150-Sheet Output Bin, 250-Sheet Input
Standard Ports
Gigabit Ethernet (10/100/1000), Front USB 2.0 Specification Hi-Speed Certified port (Type A), 802.11b/g/n Wireless, USB 2.0 Specification Hi-Speed Certified (Type B)
Size (mm – H x W x D)
462 x 442 x 556 mm
Weight
26,8 kg
Packaged Size (mm – H x W x D)
570 x 558 x 594 mm
Packaged Weight, kg
30,5 kg
Copying
Copy Speed Up to:
Black: 23 cpm1 (A4)
Colour: 23 cpm1 (A4)
Copy Speed Duplex Up to:
Black: 12 spm1 (A4)
Colour: 12 spm1 (A4)
Time to First Copy as fast as:
black: 12,5 seconds
colour: 13 seconds
Reduce / Enlarge Range
25 – 400 %
Faxing
Modem Speed
Max is 33,600 bps, V.34 Half-Duplex Kbps
Fax Transmission Speed
< 3 seconds per page
Printing
Print Speed Up to:
Black: 23 ppm1 (A4)
Colour: 23 ppm1 (A4)
Print Speed Duplex Up to:
Black: 12 spm1 (A4)
Colour: 12 spm1 (A4)
Time to First Page as fast as:
Black: <11.7 seconds
Colour: <11.7 seconds
Print Resolution
Black: 1200 x 1200 dpi, 4800 Colour Quality (2400 x 600 dpi)
Colour: 4800 Colour Quality (2400 x 600 dpi), 1200 x 1200 dpi
Duplex 2-sided:
Integrated Duplex
Printable Area
metric: 4.2 mm of the top, bottom, right and left edges (within)
Scanning
Scanner Type / ADF Scan
Flatbed scanner with ADF
RADF (reversing Duplex)
Scan Area
216 x 297 mm (Maximum)
A4/Ltr Simplex Scan Speed Up to:
Mono: 47 / 50 sides per minute
Colour: 30 / 32 sides per minute
A4/Ltr Duplex Scan Speed Up to:
Mono: 21 / 23 sides per minute
Colour: 13 / 14 sides per minute
Scan Technology
CIS
Optical Scanning Resolution
600 X 600 ppi (black)
up to 600 X 600 ppi (colour)
Scan File Formats Send as:
XPS, TIFF, Archival PDF (A-1a, A-1b), BMP, Secure PDF, PDF, JPEG, JPG
Scan Destinations
e-mail, Lexmark Document Solutions Suite (LDSS), USB or Network connected computer, USB Flash drive, FTP
ADF
50-Sheet Automatic Document Feeder
ADF Paper Input Capacity / ADF Paper Output Capacity
Up to: 50 pages 75 gsm bond
Up to: 50 pages 75 gsm bond
Paper Handling
Media Types Supported
Vinyl Labels, Paper Labels, Card Stock, Plain Paper, Refer to the Paper & Speciality Media Guide
Finishing Option
No
Number of Paper Inputs
Standard: 2
Maximum: 4
Paper Input Capacity
Standard: 250+1 pages 75 gsm bond
Maximum: 900+1 pages 75 gsm bond
250+1 pages 75 gsm bond
Paper Output Capacity Up to:
Standard: 150 pages 75 gsm bond
Maximum: 150 pages 75 gsm bond
Paper Weight Range Supported
60- 200 gsm (Standard Tray)
Integrated Tray Card Stock Upper limit
Cover – 216 gsm (74 lb) (grain long)
Index Bristol – 200 gsm (110 lb) (grain long)
Tag -200 gsm (122 lb) (grain long)
Optional Paper Handling
650-Sheet Duo Tray
Recommended Monthly Page Volume
800 – 6,500 Pages2
Maximum Monthly Duty Cycle Up to:
75,000 pages per month3
Cartridges & Imaging
Laser Cartridge Yields up to:
1,0004-page Black and Colour (CMYK) Cartridges
6,0004-page Black Extra High Yield Cartridge
2,3004-page Colour (CMY) High Yield Cartridges
3,0004-page Black High Yield Cartridge
3,5004-page Colour (CMY) Extra High Yield Cartridges
Cartridge(s) Shipping with Product
7504-page Colour (CMY) Return Programme Toner Cartridge, 1,4004-page Black Return Programme Toner Cartridge
Replacement Cartridges:
Product functions only with replacement cartridges designed for use in a specific geographical region. See www.lexmark.com/regions for more details.
Hardware
Processor Speed
Quad Core w/ GPU, 1.2 GHz
Memory
standard: 1024 MB
maximum: 1024 MB
Hard Disk
Not Available
Printer Languages Standard:
PCL 5c Emulation, PCL 6 Emulation, Microsoft XPS (XML Paper Specification), Personal Printer Data Stream (PPDS), PostScript 3 Emulation, PDF 1.7 emulation, Direct Image, AirPrint™
Fonts and Symbol Sets
2 PCL bitmap fonts, 158 scalable PostScript fonts, OCR-A, OCR-B scalable PCL 5e fonts, For more information, refer to the Technical Reference., 84 scalable PCL fonts, 3 of 9 scalable PCL 5e fonts in Narrow, Regular and Wide, 5 PPDS bitmap fonts, 39 scalable PPDS fonts
Touch Screen Display
No
Connectivity
Direct USB
Yes
Ethernet Network
Yes
Network Protocol Support
TCP/IP IPv6, TCP/IP IPv4, AppleTalk™, TCP, UDP
Network Printing Methods
LPR/LPD, FTP, Direct IP (Port 9100), Pull Printing, Microsoft Web Services WSD, Telnet, FTP, TFTP, Enhanced IP (Port 9400), ThinPrint .print integration, IPP 1.0, 1.1, 2.0 (Internet Printing Protocol)
Network Management Protocols
DHCP, APIPA (AutoIP), BOOTP, RARP, mDNS, IGMP, Bonjour, WINS, DDNS, SNMPv3, SNMPv1, SNMPv2c, Telnet, NTP, ICMP, HTTP, DNS, ARP, HTTPs (SSL5/TLS), Finger
Network Security
IPSec, SNMPv3, 802.1x Authentication: MD5, MSCHAPv2, LEAP, PEAP, TLS, TTLS
Optional Network Ports
Marknet N8372 WiFi Option
Supported Operating Systems
Microsoft Windows Operating Systems Supported
Windows 10, Windows 8.1, Windows 8, Windows 8 x64, Windows 7 x64, Windows 8.1 x64, Windows 7
Apple Operating Systems Supported
Apple OS X (10.6, 10.7, 10.8, 10.9, 10.10, 10.11, 10.12, 10.13)
Linux Operating Systems Supported
Debian GNU/Linux 7.0, 8.0, Ubuntu 16.04 LTS, Fedora 23, 24, openSUSE Linux 42.3, Red Hat Enterprise Linux WS 6, 7, openSUSE Linux 13.2, SUSE Linux Enterprise Server 10, 11, 12
Citrix MetaFrame
Microsoft Windows 2000 Server running Terminal Services with Citrix MetaFrame XP Presentation Server or Citrix MetaFrame Presentation Server 3.0., Microsoft Windows Server 2012 with Citrix XenApp 6.0, 6.5, Microsoft Windows 2000 Server running Terminal Services with Citrix Presentation Server 3.0, 4.0, Microsoft Windows 2000 Server running Terminal Services with Citrix Presentation Server 4.0
Novell Operating Systems Supported
Novell Open Enterprise Server on SUSE Linux Enterprise Server, Novell NetWare 5.1(SP 6+), 6.0(SP 3+) with Novell Distributed Print Services (NDPS), Novell Open Enterprise Server 2 SP2 on SuSE Linux Enterprise Server 10 SP3 3, Novell NetWare 6.5 Open Enterprise Server, Novell Open Enterprise Server 11 on SUSE Linux Enterprise Server 11, Novell Open Enterprise Server 2 on SUSE Linux Enterprise Server 10 SP4
UNIX Operating Systems Supported
Sun Solaris x86 10, 11, Sun Solaris SPARC 10, 11, IBM AIX 6.1, 7.1
Electrical & Operation
ENERGY STAR
Yes
ENERGY STAR Typical Electricity Consumption
TEC: 0.43 kilowatt-hours per week
Noise Level Operating:
Inaudible dBA (Idle)
48 dBA (Print)
54 dBA (Copy)
54 dBA (Scan)
Duplex Print Noise Level Operating:
50 dBA
Average Power
0,2 watts (Hibernate Mode)
1,49 watts (Sleep Mode)
38,5 watts (Ready Mode)
400 watts (Printing)
425 watts (Copying)
25 watts (Scanning)
Specified Operating Environment
Humidity: 8 to 80% Relative Humidity
Altitude: 0 – 3,048 Metres (10,000 Feet)
Temperature: 10 to 32°C (50 to 90°F)
Product Certifications
ENERGY STAR, Blue Angel RAL-UZ 205, ICES-003 Class B, BSMI Class B, VCCI Class B, US FDA, UL 60950-1, FCC Class B, cUL CAN/CSA-C22.2 60950-1, CB EN/IEC 60950-1, CB EN/IEC 60825-1, CE DoC (EN 62301 Class B, EN 62311, CE EN/IEC 60950-1, CE EN/IEC 60825-1, EN 61000-3, EN 55022 Class B, EN 55024, UL), EFTA (CE), KCC, CCC, CECP, CEL, C-tick DoC, UL-AR, KC mark, UL GS mark, EC 1275, MET-I, ISO 532B, ECMA-370, GOST-R, SII, TER, Wi-Fi CERTIFIED
License/Agreement Terms
Printers are sold subject to certain license/agreement conditions. See www.lexmark.com/printerlicense for details.
Warranty
4-year guarantee (upon registration)
Additional information
Brand

LEXMARK

Catalogue Page

N/A

Print technology

Colour Laser

Function

Colour Copying
Colour Faxing
Colour Printing
Colour Scanning

Size (H x W x D)

462 x 442 x 556 mm

Weight

26,8 kg

Packaged Size (H x W x D)

570 x 558 x 594 mm

UOM

PC

Packing

1