Description
Additional information
Brand
Description
TRODAT PROFESSIONAL NUMBERER WITH ADDITIONAL CHARACTERS

Character size: 5mm | Note: Rubber text plate is not included in the price.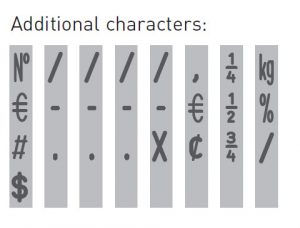 The Trodat Professional is the perfect stamp for daily office use and ensures clean and precise imprints. For decades it has stood for reliability and professionalism. Precise workmanship and high-quality materials make it an enduring champion in the Trodat product range.
Trodat offers the most important sizes of the Professional in the latest generation Professional 4.0. These not only convince with their unique, brushed stainless steel design, but also with their superior ergonomics and functionality. And, of course, the Trodat Professional 4.0 is climate-neutral as standard, just like its predecessor.
Stronger. Cleaner. Faster. These were the main criteria in the thoughtful development of the new Trodat Professional 4.0. The brushed stainless steel reflects the high-quality processing of the stamp. The robust and sturdy casing provides a worthy frame for numerous new application benefits.
SAVE TIME AND RESOURCES
The Trodat Professional 4.0 demonstrates its functionality by simplifying the work process of stamp dealers: The elevated text plate holder with preassembled adhesive foam plate and positioning grid guarantees easy text plate mounting. The flattened handle means it can also stand on its head. And using a central adjusting screw, the date band height can be adjusted as required with just one spin.
STRONGER
The solid metal construction made from brushed stainless steel guarantees greatest possible stability & durability.
CLEANER
The new finger guard keeps fingers clean when changing the ink cartridge & setting the date.
FASTER
The special grip zones on the feet, combined with the slim stamp design and the new date band drive mechanism on most models guarantee faster and preciser date setting & alignment.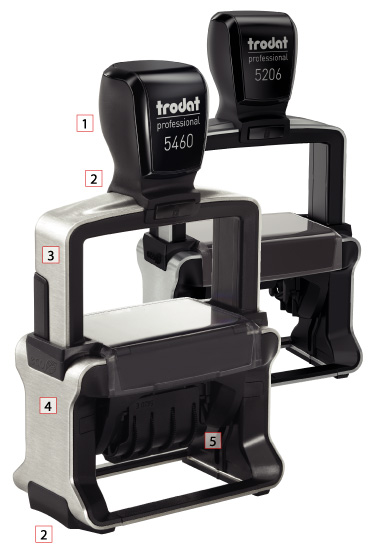 SUPERIOR ERGONOMICS
1. ERGONOMIC HANDLE
2. CUSHIONING ELEMENTS on handle and on feet reduce stamp vibrations
3. SIZE & WEIGHT MINIMISED
HIGH-QUALITY STAINLESS STEEL
4. SOLID METAL DESIGN made of brushed stainless steel for maximum stability & durability
PERFECT IMPRINT QUALITY
5. OPTIMISED TEXT. PLATE GUIDE ensures round, consistent stamp movement and perfect imprint quality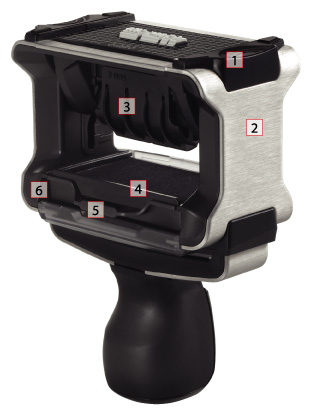 FAST & CLEAN DATE SETTING
1. Special GRIP ZONES on the feet
2. SLIM STAMP DESIGN
3. WIDER DATE WHEELS with NEW DATE BAND DRIVE MECHANISM*
CLEANER & EASIER INK CARTRIDGE REPLACEMENT
4. NEW FINGER GUARD guarantees clean fingers when changing the ink cartridge & setting the date
5. Non-slip DOUBLE GRIPS allow optimal grip
6. OPTIMISED GUIDE & LOCKING SYSTEM ensures easy ink cartridge replacement
7. GRIP ON CARTRIDGE COVER makes it easier to remove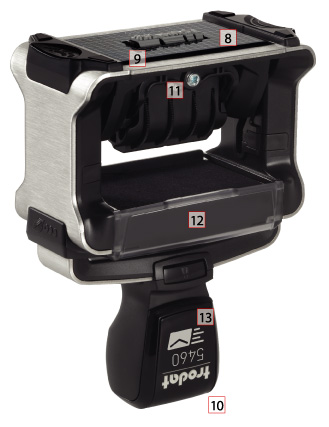 EASIER TEXT PLATE MOUNTING
8. PRE-ASSEMBLED ADHESIVE FOAM PLATE with POSITIONING GRID
9. 0.5 – 2.5 mm ELEVATED TEXT PLATE HOLDER
10. FLATTENED HANDLE means the stamp can also stand on its head
FASTER DATE HEIGHT SETTING
11. CENTRAL SET SCREW allows adjustment of the date band height with just one spin
INIDIVIDUAL COMPANY PERSONALISATION
12. LARGER INDEX WINDOW
13. LASER-ENGRAVABLE HANDLE with interchangeable COLOUR RING
| | | |
| --- | --- | --- |
| Staineless Steel | Climate-neutral. As standard. | Austrian Ecolabel |
Additional information
| | |
| --- | --- |
| UOM | PC |
| Packing | 1 |
| Catalogue | Page 212 | Image F |
| Brand | TRODAT |
| Stamp Type | Number |
| Size | 5 mm |
| Body Colour | Black |
| Swop Pad Colour | Blue |